Logistics is difficult. Real-time cargo tracking helps.
Logistical nightmare – a common phrase used by people of all professions. But of course, it rings especially true for anyone who actually works with logistics. They understand what a real logistical nightmare looks like. When it goes wrong, it can go really wrong.
There are many challenges facing supply chain managers, all of which can cause headaches. In your role, you have to collaborate with partners, satisfy customers, manage a workforce and keep a budget. However, your most important task as a logistics professional is getting your goods from point A to point B. In one piece. At the specified time.
Yet this is where most supply chain managers have the least amount of control. Once in their container, the goods are quite literally in a black box. From point A to point B, many supply chain managers cannot access any insights into the location or condition of their cargo.
So why does real-time cargo tracking matter in logistics? The short answer: because knowledge is power. The long answer? Find out below.
Today, guesswork is optional.
Defining 'real-time cargo tracking'
The truth is, there is no need for supply chain managers to be completely in the dark. Today, guesswork is optional. More supply chain professionals are recognising the importance of visibility, which real-time cargo tracking is said to provide. But what is real-time cargo tracking exactly?
Cargo tracking. On its own, cargo tracking can refer to legacy methods of logging the location of your goods. RFID & barcodes, for instance, help provide evidence that your goods have departed and arrived. But this doesn't prevent the guesswork – it only timestamps it. Everything between departure and arrival is still a mystery.

Real-time. 'Real-time' cargo tracking refers to a constant stream of data acquired with trackers, throughout the shipment's journey. This can be data on location, but also on the condition of your cargo – the temperature & humidity or any exposure to tilts, shocks or light. Real-time cargo tracking outcompetes legacy cargo tracking, and the two types of tracking highlight the difference between digitisation and digitalisation.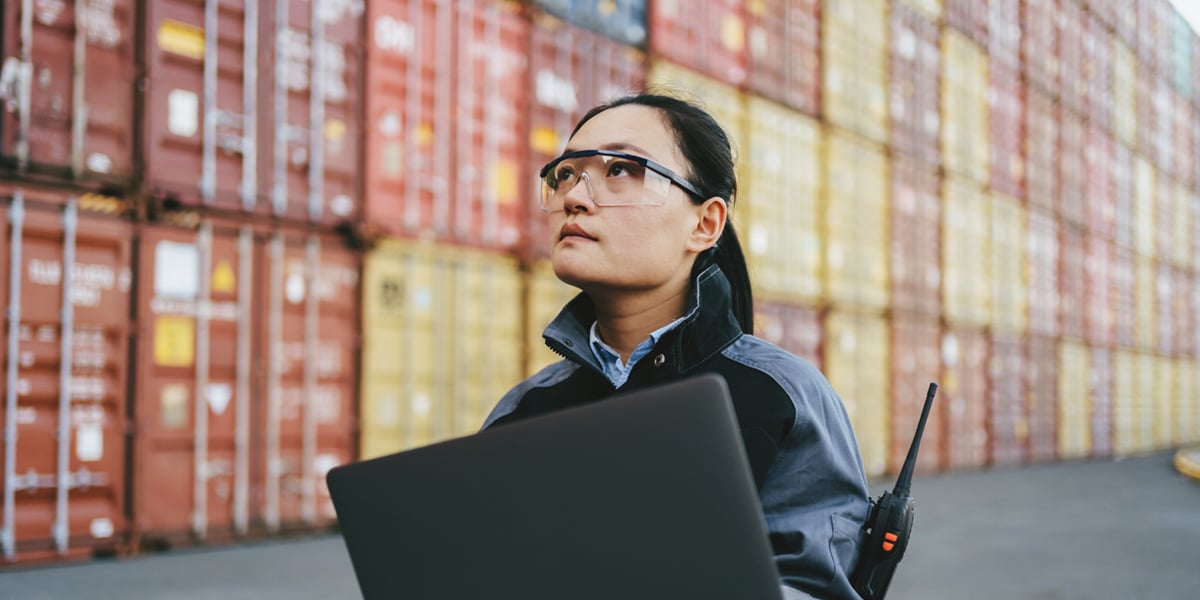 The advantages of real-time cargo tracking
Improve on-time deliveries. With access to precise positioning information, logistics managers can enjoy continuous, unbroken visibility of their shipments. With this data, they will immediately know about events as they happen, not hours or even days after the fact. As a result, they can investigate and respond effectively to delays, deviations or any other obstacle that can result in late deliveries.

Even if there is nothing that can be done, it is still much better to know, so the recipient can be warned of a delay and plan around it. Not to mention, this data also provides tangible evidence of ways to improve in the future. Of course, running a more efficient supply chain has many knock-on effects, such as its impact on inventory management.
Help prevent damage. At every step of the way, cargo damage is a real concern. Especially in transit, no matter the mode of transport. Combining location data with real-time condition monitoring (including data on temperature, humidity, light exposure, shocks and tilts) helps you understand the exact journey that your cargo experiences.

Combining location tracking and condition monitoring helps:
improve your shipment of perishables by understanding if your cold chain truly is unbroken, and exactly where any break occurs

ensure your high-value goods are handled properly, and pinpoint the time and place of a potential mishandling

reveal the true reason for any damage that does occur, and hold relevant parties accountable.
In some cases, condition monitoring data can help you step in to prevent the damage in the first place. Even when this isn't possible, condition data illuminates weak links, undesirable patterns and helps minimise other hidden costs of damage.
Increase partner collaboration & customer satisfaction. Data is evidence, and evidence supports secure supply chain collaboration as well as customer satisfaction. For supply chain partners, data builds accountability and mutual trust. Data sharing is key to greater visibility and streamlined, cost-effective deliveries.
For customers, data builds confidence. Keeping customers in the loop improves customer satisfaction. Letting your customers know immediately about delays helps them plan around it and shows them that you are doing everything you can.
Get in control, with Visilion​
For Visilion users, even when shipments are out of sight, they're always visible. The IoT-based tracking solution from Sony gives logistics professionals access to real-time location data on their shipments, and a sense of control over their operations. ​Visilion provides data for every step of the way.
Robust, slimline Visilion trackers are attached to or placed inside shipping crates or containers. Equipped with GPS sensors, they let users follow the progress of shipments – whether raw materials or finished goods – at every stage from supplier to customer and beyond. They upload data continuously to a cloud service, where it is analysed and made available via an intuitive web interface.