Monitor, analyse and visualise supply chain data
No more guessing


Digitalisation is paving the way for greater efficiency in global supply chains. Armed with a complete and reliable set of data – on both the location and the condition of their cargos – logistics managers can pinpoint the strengths and weaknesses of their operations. They can see not only when goods leave and arrive, but also what happens to them in between.
Get in control, with Visilion​
Visilion is a smart IoT-based solution from Sony that constantly tracks shipments in transit. Robust, slimline trackers are attached to or placed inside shipping crates and containers, and they upload data continuously to a cloud service, where it is analysed and made available via the Visilion web interface.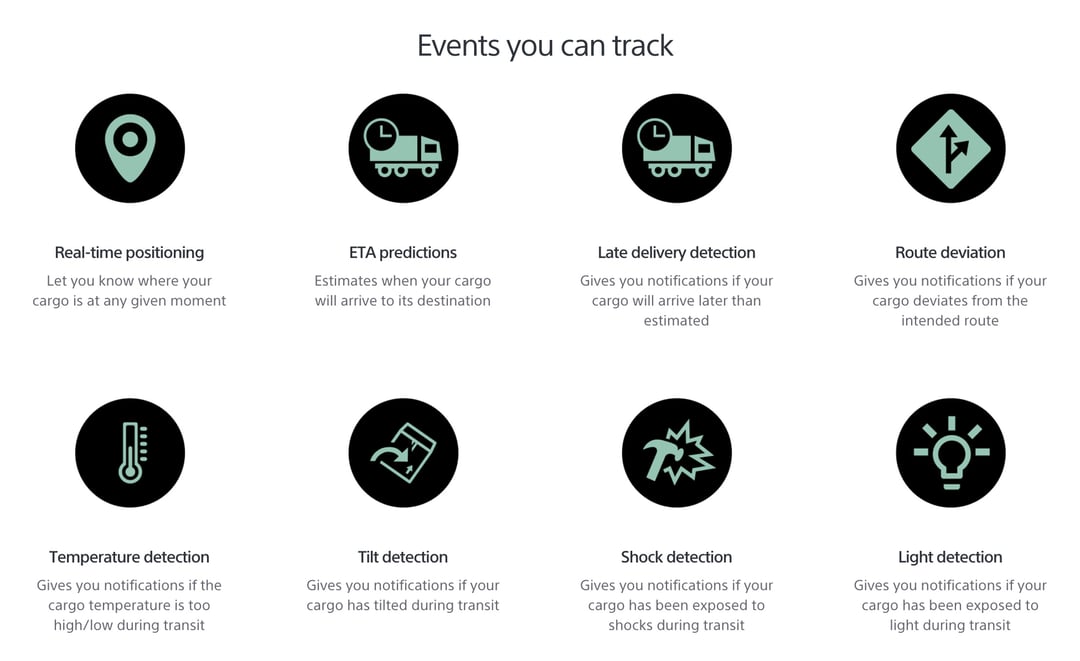 Built-in tracker sensors pick up location, temperature, and shock & tilt data, enabling logistics managers to follow the progress and condition of their goods at every stage of their journey from supplier to customer.

Using Visilion, they can gather all kinds of data per shipment, apply a range of filters, and export the results into convenient, shareable reports. With data and analytics at their fingertips, they can solve day-to-day logistics issues. Over time, they can spot patterns, long term trends and anomalies.



So many questions!​
Which routes deliver the most consistent transit times?

Which modes of transport maintain the best environmental conditions such as temperature or subject fragile shipments to the fewest physical shocks?

Where do bottlenecks occur?
In the past, questions like these have been almost impossible to answer. Now, Visilion provides the answers, enabling logistics managers to take smarter decisions that improve efficiency and cut costs. And it's all about to get even easier, with the introduction of Visilion's aggregation and visualisation tools for easy analysis and sharing.
Invite your customers in
Managers can choose what data to share with their customers, based on the nature of their business relationship. One simple option is to extract and email reports from Visilion on the completion of each shipment. Another is to have the system generate and send alert mails, providing customers with key information about transport events as they occur.

If the business relationship is even 100% transparent, they can give customers full access to the system. Sharing is also about to get a whole lot easier, thanks to the introduction of Visilion user profiles.

Own your data
An IoT solution enables numerous partners to collaborate, including the technology providers, the carriers, the shipping lines, and even the container OEMs. Of course, this collaboration is a good thing since it brings out the full potential of IoT technology. However, it's important to be clear about who owns the data.

Logistics managers should make sure they own their own data and have full access to it. They can achieve this by investing in a tracking solution that provides access to data during shipments and the ability to track them over time. This is also the best way to build the value of the business, since it guarantees the availability of long term performance data.