mSafety makes participation smoother and easier for trial volunteers

mSafety, the remote monitoring platform from Sony, is designed to help trial managers address non-compliance issues and get the best possible results from every study. Sony's approach is simple: to lower the barriers for volunteers by making participation and data collection as seamless and hassle-free as possible.
Below we look at five common causes of non-compliance and describe how mSafety helps you overcome them.



1. Managing complex technology
When remote monitoring devices are used in clinical trials, participants often struggle to set-up and use the technology correctly. Most devices today require pairing with a smartphone or tablet, and there may be issues around wi-fi access.

With mSafety, participants get a purpose-built wearable device with the study application preloaded. It connects automatically to the researcher's backend without the need for a special account.

A global roaming profile ensures a continuous connection, in- and out-doors, so users never have to check they're connected, and researchers get a continuous flow of reliable patient data. The device itself is also simple, featuring a monochrome display and few buttons.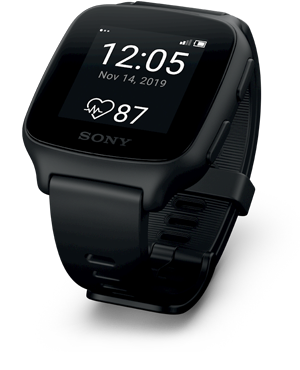 2. Forgetting to take their medication
In a survey of 2000 U.S. consumers living with chronic health conditions, Sony found that 45% forgot to take their medication at some point during treatment. Similarly, clinical trial participants sometimes forget to take their medicine, or perhaps forget to take it at the right time or under the required conditions – such as on waking up or after a meal.

mSafety's bi-directional communication capabilities allow researchers to monitor compliance closely and send timely reminders to the user's device, if needed. Users can then confirm – via their device – when they have taken the medication.



3. Failure to report results
Participants in traditional-style clinical trials generally log their response to therapies and relay this information to trial coordinators on a weekly, bi-weekly or monthly basis. Not surprisingly, volunteers sometimes forget to note their responses at the time, and then fail to recall them accurately when questioned later. For these reasons, self-reporting is notoriously unreliable.

With the mSafety platform, trial organisers can define the ideal frequency of data uploads in advance. The system then automatically sends patient data to the researchers' backend at the time intervals specified. Volunteers basically don't have to do anything except wear the device. All the effort, time and personal commitment required for successful self-reporting is eliminated and organisers receive regular, objective results.



4. Time and cost of travel
Studies typically usually require participants to travel to a centre for regular check-ins, which can be both expensive and time-consuming. During the Corona virus pandemic, the need to attend face-to-face meetings is also a serious deterrent for anyone, and in particular for people with a health condition.

When using mSafety, patient data is sent automatically over the air. This minimises the need for face-to-face meetings as well as reducing travel time and expenses. It therefore makes participation more attractive to would-be volunteers and reduces drop-out rates since even 'at-risk' individuals can safely join and stay in the programme.



5. Concerns about data privacy
Getting people to participate in trials is never easy, even when there are financial incentives. One of the main reasons is that people are increasingly concerned about how their personal data will be handled. This issue is especially pressing in countries where health insurance costs are high and those with a pre-existing condition are charged at a premium.

mSafety offers a reassuringly high level of data integrity and security. All patient information is protected – from the point of collection to storage and analysis, with end-to-end encryption of data between device and the mSafety backend.
mSafety simplifies participation and compliance
As drug researchers know only too well, compliance failures represent money down the drain for the pharmaceuticals companies they serve. In the worst-case scenario, the validity of an entire study may be threated. By tackling the typical causes of non-compliance, mSafety provides the industry with a powerful new tool for improving trial results. The platform's simplicity and convenience make participation in trials more appealing for volunteers, while significantly minimising the drop-out rate over time.
Learn more about how mSafety can alleviate compliance issues in your studies: mSafety Digital Biomarker Solution
Are you ready to decentralise your clinical trials? Contact us