Developing a more proactive approach to healthcare
Oct 3rd, 2019

Anders Strömberg, Sony Network Communications Europe

An increasing number of people require continuous health monitoring as they get older. At the same time, certain chronic health conditions such as diabetes type 2, are occurring earlier in life, which means healthcare services are under pressure from both ends.

Meanwhile, the overall cost of care is escalating. Equipment, systems and staff costs are all rising faster than healthcare providers' budgets. And the reimbursements from insurance companies or government health departments are not sufficient to cover them all.

Against this backdrop, a new healthcare model is emerging that is known as digital health. Digital health innovation is changing the meaning of healthcare. It's based on the simple idea that – given the right insights – people can remain healthier, longer, and therefore be less of a less burden on society.

It seems that many of us are prepared to go to some lengths to prevent health problems before they arise – as witnessed by the proliferation of step counters and health & wellness apps. Taking it up a notch, we now have the technology to regularly (continuously) measure personal values such as heart rate, blood pressure and blood sugar using wearables with built-in sensors. Based on our unique data sets, we can receive individually tailored insights and health solutions.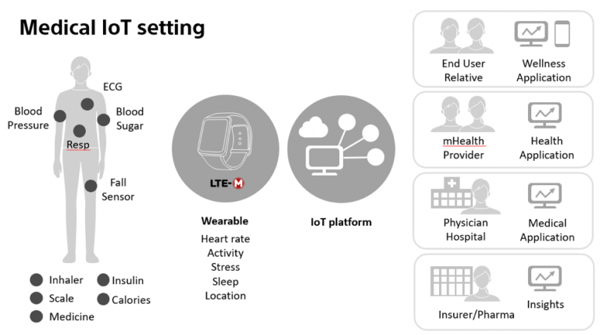 This is the basic model behind mSafety, by Sony. It consists of a wearable and Cloud back-end server upon which developers can create new mobile health applications. The wearable provides user friendly feedback in almost real-time and can positively influence the user to do small but important things to delay, mitigate or prevent poor health. Crucially, AI can be applied to both personal and cohort data.

Looking ahead, medical professionals agree that data will be essential in finding the preventive measurements and cures of the future. The service providers behind new mobile health applications will have a big part to play in this development. As they gather information from multiple users, the growing body of data can be used to generate insights that benefit the health of society as a whole.

Author: Anders Strömberg, Head of Wearable Platform Dept. Network Communications Europe, Sony

Anders heads a newly formed department within Sony that provides a solution leveraging 4/5G IoT communication technology for application areas such as search & rescue, safety and mobile health. He has previously held management functions within business development, R&D and product management at several major tech companies (Hewlett-Packard, Siemens and HemoCue) as well as start-up companies (Advenica, Appium/Aepona, MIMT, Heyhop and Bluelabs).

Learn more about the future of healthcare with mSafety, or get in touch with Anders on LinkedIn.

https://sonynetworkcom.com/msafety/